Writer:fashion Categories: Fashion
Actress Jennifer Lawrence is back for Dior's fall-winter 2016 handbag campaign. First named a Dior ambassador in 2013, the blonde beauty poses with the Diorama and Diorever bag. Photographed by Patrick Demarchelier, Jennifer gazes intently into the camera's lens wearing oversized sweaters and cozy jackets. According to WWD, the campaign will officially launch on September 5th. Wearing her hair in a tousled updo, the 26-year-old poses with bags featuring a range of sparkling metallics, embroidered logos and scarves tied at the handle.
JENNIFER LAWRENCE –
DIOR

FALL/WINTER 2016 CAMPAIGN
Tag: Dior Campaign JENNIFER LAWRENCE
Writer:fashion Categories: Other Brands
All the designer brands are working hard to match their design with the current season – the summer. So they decorate their bags with bright colors and different flowers. But unfortunately, no brand is going to shine above what Dior is about to release. Dior is going all-in on the flowers. Meet the Dior Blossom Bag.
Not much information has been released about this fresh design. But you know what they say right? A picture is worth a thousand words.
So most of these bags are going to be made in single colors. The bags are crafted with a sleek body. Oh, I love the shape – its curvy and feminine.
Perfect for the summer, the Dior Blossom Bag is made as minimalistic as possible. And we love the minimal design because it represents modern and can easily match with any outfit in your wardrobe.
Then look at the double leather handles. They are perfect for your hands and comfort for carrying.
What's even more intriguing is the large flower tag. The flower tag looks like handcrafted paper flower. And it's actually made from leather.
The interior features one large compartment to store everything you want. It has the space to fit a lot of essentials, even your iPad. There is also an extra interior pouch available. And the bag is secured with a gorgeous inside and outside lock.
More details like the prices and sizes will be shared later on. For now, if you're interested, visit your nearest Dior boutique.
Writer:fashion Categories: Other Brands
Marion Cotillard stars in Lady Dior 2016 handbag campaign
French actress Marion Cotillard is back for a brand new Lady Dior campaign. First fronting advertisements for the brand in 2008, the Oscar-winning thespian has appeared in a wide arrange of shoots. According to WWD, the latest advertisements were captured near the Seine River in Paris by Peter Lindbergh.
In one shot, she wears a camel-colored trench coat while her curly hairstyle catches in the breeze. In another, Marion wears a red jacket while holding on to a quilted Lady Dior bag featuring silver charms. Either way, Marion exudes pure elegance in the dreamy advertisements.
MARION COTILLARD – LADY DIOR 2016 CAMPAIGN
Marion Cotillard poses in Paris for Lady Dior's 2016 campaign
FLASHBACK – MARION COTILLARD FOR LADY DIOR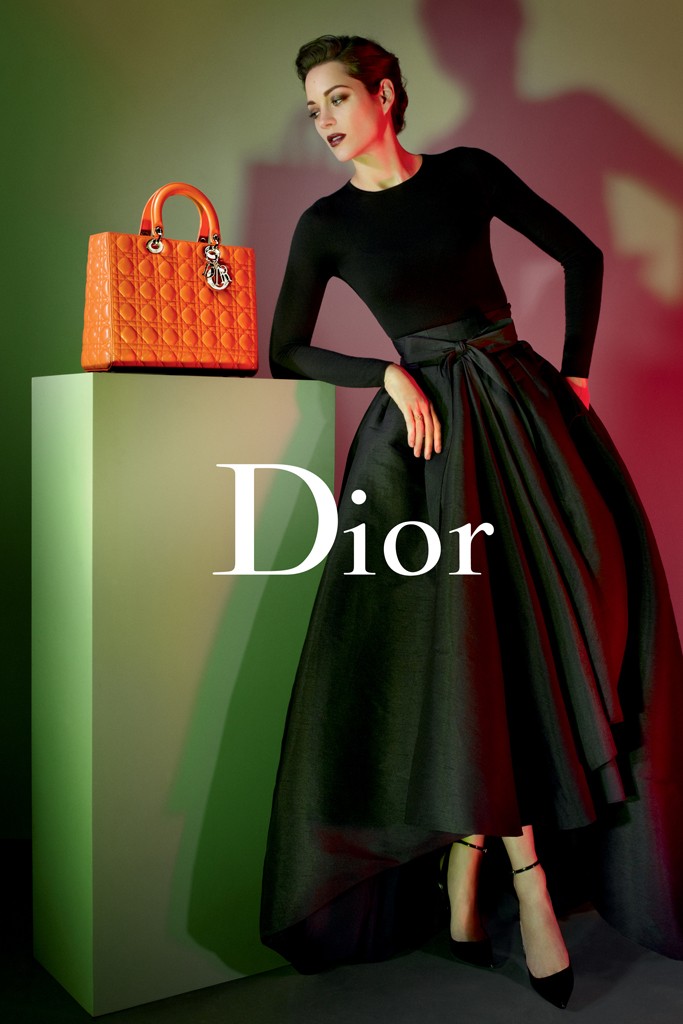 Marion Cotillard stars in Lady Dior pre-fall 2013 campaign
Marion Cotillard's latest advertisements for Lady Dior mark an impressive 15 campaigns since 2008. The French actress has worked with fashion's top photographers including Peter Lindbergh, Mert & Marcus and Jean-Baptiste Mondino through the years. Take a look at some of Marion's best Lady Dior ads below.
Marion Cotillard stars in Lady Dior spring 2014 campaign
Marion Cotillard stars in Lady Dior 2015 campaign.
Marion Cotillard stars in Lady Dior's cruise 2016 campaign
Tag: Dior
Writer:fashion Categories: Other Brands
A golden girl knows how to stay golden and on top of her game. Most of the modern women nowadays are "Golden It Girls", they know what they want and they strive hard to get it so no wonder if this Miss Dior Golden Metal Python Pouch with Chain is an epitome of their personality.
Modern, stylish yet with a feminine touch, this Golden Metal Python Promenade Pouch is luxurious in all its angles. The pale gold clasp and removable golden chain added a touch of panache and elegance to it thus sealing the pedestal of modern luxury when it comes to hand bags.
Just imagine taking it out with you while you're on a party or while you're attending social galas and soirees, we're 100% sure that you'll definitely shine especially if you pair it with your black body con dress.
What we also love about this bag is that it is very flexible, you can wear it on the shoulder, in the hand or cross body. Imagine stealing different looks with just one bag.
On the inside, it has an exterior pocket, a flat pocket, zipped pocket, 7 card slots and a large inner compartment perfect for holding your essentials.
It measures 21 x 13.5 cm, priced at €2600 euro or £2100 GBP and is only available in Dior boutiques.
Tag: Dior
Writer:fashion Categories: Other Brands
If you've been following BRAGMYBAG so far, you already know that Dior has just released the Dior Cannage Stitched Backpack. If you haven't, then check it out here: Dior Cannage Stitched Backpack Details.
Though not much information has been published on the web yet, we still want to show you two more variation of this backpack.
The first one is the Dior Cannage Stitched Sequin Backpack in bi-color. This backpack is partly adorned with the iconic Cannage Stitching in black. But the flaps are embellished with beautiful multicolor sequins. Then for the refinement, the handle and the buckle straps are painted in baby blue. So now you have three colors in one. What do you think?
Let's move to the next one. Here's something that you have to love. Again, the bag is partly made in Cannage Stitching, but the flap is adorned with multicolor little flowers and it's perfect for the summer. The handle and the bucket straps are both painted in red. This bag will certainly attract some attention.
Writer:fashion Categories: Other Brands
Presenting the new Dior Spring Summer 2015 handbags, are you ready?
If the Be Dior Flap Bag is your 'style, then it's almost certain that you will fall in love with the new Small Dior Flap Bag in Papaye, finished with silver hardware. This combination of colors is perfect for the working lady as it matches like twins to a black suite. But you can also consider wearing it crossbody in your casual outfit on the weekends.
Another accessory we should put on the watch-list is the new boxy flap bag – it's a new addition to Dior's Classic Collection. The boxy flap bag comes in different styles, decoration and leathers; it's available in either chains or leather strap. The snap closure on the front flap also depends on the style. See more here:Dior Shoulder Bag For Spring 2015 Collection.
The iconic from the House of Dior, the Lady Dior Tote has been completely re-styled. Instead of Cannage Stitching and lambskin, Dior choose to give it a distinctive touch, it's colored in white and orange, then printed with ski icons like trees.
So what do you think?
New Posts

Hot Posts

Categories

Random Posts

Tags